Cameras
Pandigital Announces 10.4-inch Digital Frame with Video and Music
Pandigital Announces 10.4-inch Digital Frame with Video and Music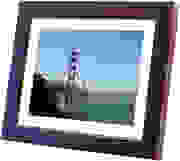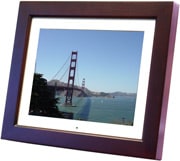 January 5, 2007 – Digital entertainment product maker Pandigital launched today their largest photo viewer, the 10.4-inch Digital Photo Frame. The Pandigital frame comes with photo, video, and music capabilities and will be available in mid-February for $249.99.
The new Pandigital photo frame can store 256MB of internal memory and is compatible with 6 media types, including SD, xD, CF, MMC, Memory Stick, and Memory Stick Pro/Memory Stick Duo. With a remote, users can control slideshows, video in MPEG 1, MPEG 4, or AVI format. Users can also play MP3 files on the built-in speakers.
"Pandigital frames include the features that let people quickly and easily enjoy their digital photos. This made them one of the hottest must-have gifts for the 2006 holiday season," said Pandigital president Dean Finnegan in Thursday's press release.
Last quarter, Pandigital sold over 500,000 units in the United States. This year, the photo frame maker is adding the product to 1,000 more retailers, making it available at a total 6,000 locations as well as catalogues and the internet.
The Pandigital 10.4-inch frame comes with two interchangeable frames: black wood and cherry wood.