Cameras
Passport Elite Portable USB Drives from WD
If you are in the market for a new portable storage device to backup all your images then take a look at the y Passport Elite Portable USB Drives from WD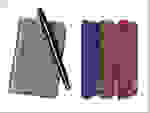 If you are in the market for a new portable storage device to backup all your images then take a look at the  Passport Elite Portable USB Drives from WD. The My Passport Elite Portable USB Drives weighs less than 5 ounces and available in capacities of 320 and 250 GB.
Unique features of the new My Passport Elite Portable USB Drives include:
Capacity gauge that enables users to know at-a-glance how much space is available;

Powerful automatic backup software lets users designate files and folders for automatic and continuous backup;

Synchronization software that lets users sync their changes and protect their information with 128-bit encryption;

Retrieve forgotten files from any MioNet®-enabled PC (compatible with Windows® only) and copy them to My Passport Elite with MioNet installed allowing users to retrieve forgotten files from the road using the unique MioNet Key™ software;

Available in four elegant, soft-touch colors: bronze, titanium, westminster blue and cherry red;

Industry-leading 5-year limited warranty; and,

Plug-and-play capability with gaming consoles[2] to make it easy to play music and view photos and video files on a TV.
WD's My Passport Elite USB Drives are available now at select retail stores and from WD's online store (http://www.shopwd.com). MSRP for the My Passport Elite USB Drive with 250 GB capacity is $169.99 USD and the My Passport Elite 320 GB is $199.99 USD.