Cameras
Pentax Adds Optio A30
Pentax introduces A30 camera with improved sensitivity and LCD display.
February 21, 2007 – In preparation for PMA 2007, Pentax launched the new Optio A30 point-and-shoot. The 10-megapixel camera adds a few new features including enhanced shake reduction, expanded ISO sensitivity, and a modified LCD display. The Pentax A30 will sell for $349.95 when it debuts next month.
The Pentax Optio A30 follows in the footsteps of its predecessor the A20, that was introduced in August 2006 at the same price point. The A30 borrows the 10-megapixel count and 3x optical zoom but includes a new feature called Intelligent Zoom that lets users digitally magnify photos.
The A30 adds an enhanced 2.5-inch, 232,000 pixel resolution LCD with a new Bright Mode function that allows users to adjust monitor brightness and enables wide 160 degree viewing without solarizing.
The A30 is equipped with Face Recognition auto focus, auto exposure, and tracking AF like the model before it. The camera also possesses three anti-blurring features including SR (Shake Reduction), Movie SR, and Digital SR that boosts sensitivity to the expanded 3200 ISO setting,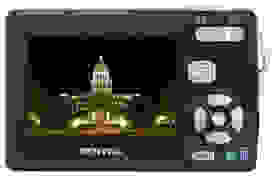 up from 1600 on the previous model.
The camera promises faster start-up and focusing times and improved shutter release with a lag time of 0.02 seconds, according to a company press release today.
The A30 has automatic and manual functions, among the 15 shooting modes and 15 playback modes. The camera also includes a simplified Green button mode for frequently used presets.
The A30 is compatible with SD and SDHC memory cards and accepts Li-ion batteries.
Key Features:
Face Recognition AF and AE
New LCD Bright Mode and Wide View
New Intelligent Zoom
ISO 3200 setting