February 15, 2006 – Pentax has added its third model to its waterproof line of digital cameras with today's announcement of the Optio W10. The new W10 has 6 megapixels, like its WPi sibling, and couples it with a larger LCD screen and better movie capabilities. The W10 is JIS Class 8 certified, meaning it is dust proof and waterproof to 5 ft. for 30 minutes. The Pentax Optio W10 will retail for $299 when it begins shipping in March.
Until now, Pentax's waterproof series included the original 5 megapixel WP and the 6 megapixel WPi. The Pentax Optio W10 keeps some of the same features such as the 3x zoom lens, the 4-1/2000th of a second shutter speeds, and the selection of 18 scene modes. However, the new W10 also adds some nice features to the waterproof lineup.
The Pentax Optio W10 has a 2.5-inch LCD screen with an acetate cover that reduces reflections. This is larger than the 2-inch, 110,000 pixel LCD screen on previous W-series digital cameras. The W10 adds a little more playback clarity with its 115,000 pixels, but is still behind the competition when it comes to screen resolution. Many manufacturers are now including 230,000 pixels on their 2.5-inch LCD screens.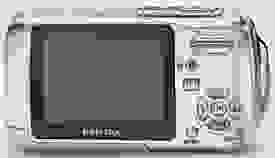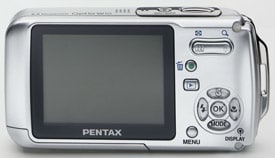 Earlier Pentax digital cameras have 320 x 240 pixel movie modes, but the W10 records video at 640 x 480 and 320 x 240 pixels at either 30 or 15 frames per second. The new W10 offers the same pallet of color filters as on the WP and WPi and includes the same 10.5 MB of internal memory.
The body itself is slightly larger than previous Optio cameras, but its width stays the same. The Pentax WPi was 4 x 2 x 0.9 inches and the new W10 measures 4.2 x 2.1 x 0.9 inches and weighs 5.5 oz loaded. The plastic casing is protected throughout with rubber seals to make the Pentax Optio W10 waterproof to its maximum depth of 5 ft.