Cameras
Pentax Announces 31 MP Medium Format Camera and Accessories
Pentax Announces 31 MP Medium Format Camera and Accessories
February 26, 2007 - In preparation for the PMA show next week, Pentax Japan announced upcoming products including the 31.6 megapixel Pentax 645 Digital medium format camera, five new lenses, and a dedicated automatic flash. All the product names and launch dates are tentative, according to Pentax.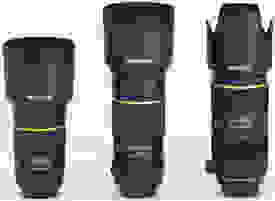 The Pentax 645 Digital medium format camera has an upgraded 31.6- megapixel Kodak CCD sensor, up from a previous 18-megapixel sensor announced last year. Although details are limited, the manufacturer states the Pentax 645 will accept both CF and SD memory cards. It will be compatible with smc Pentax 645 interchangeable lenses. The launch date will be announced at a later time, according to the Pentax Japan website.
Along with the introduction of the Pentax 645, Pentax plans to introduce the smc Pentax-D FA645 55mm f/2.8 lens for exclusive use with the new digital medium format camera as well as older film medium format SLRs. The FA645 55mm lens will be launched alongside the Pentax 645 camera.
In addition, Pentax announced a new DSLR macro lens. The smc Pentax-DA 35mm f/2.8 Macro Limited is a compact-sized lens equivalent to 53.4 mm in traditional 35mm film format. This lens' launch date will also be announced later.
Pentax will also introduce three Star-series telephoto lenses at PMA. The smc Pentax-DA** 200mm f/2.8 ED [IF] SDM that has an equivalent 306mm focal length in 35mm format and is scheduled to hit the market in September. The smc Pentax-DA** 300mm f/4 ED [IF] SDM that has an equivalent 460mm focal length and will launch in September. The smc Pentax-DA* 60-250mm f/4 ED[IF] SDM that has a focal length equivalent to 92-383mm zoom in 35mm and will hit stores in December. The new Star lenses will include Pentax's supersonic motor for quiet auto focusing, according to the website.
Lastly, Pentax will also debut its new Pentax AF200FG dedicated auto flash that has a guide number of 20 and will launch at a later date.