Pentax has announced the K5, an upgrade to their high-end K7 SLR. The new SLR ups the resolution to 16.2 megapixels, the shooting speed to 7fps, the ISO range to 12800 and the video to 1080p.
The K7 also offers 1080p video capture, although the frame rate at the top resolution (of ) is limited to 25fps. Full 60 frame progressive video can be captured at lower resolutions, though. The 3-inch LCD screen of the K5 has an impressive 921k pixel resolution, but it does not rotate out from the camera body. An optical viewfinder is also on offer above the screen.
The image sensor of the K7 is a 0.9 by 0.61 inches (23.7 by 15.7mm) CMOS chip, which Pentax claims is newly developed. This new chip allows them to increase the ISO range out to an impressive 12800 as well as increasing the burst rate of the camera to 7 frames a second at full resolution in a burst of 22 frames. The sensor also includes an image stabilization system, which they claim will work with almost all Pentax lenses. This differs from the more common image stabilization system where an element of the lens moves. This only works with lenses designed for that approach, though: the Pentax system does not require any motors or moving element in the lens, as the sensor itself moves in response to camera shake.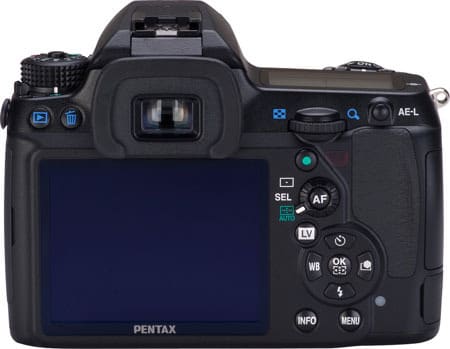 Images are stored on SD or SDHC cards, and Pentax claims that the card slot is software upgradeable to support the newer SDXC cards, although they did not specify when the upgrade will be available. The K7 will be available in October, and will be priced at $1599.99 for the body only, and $1749 for the body and a 18-55mm zoom lens.