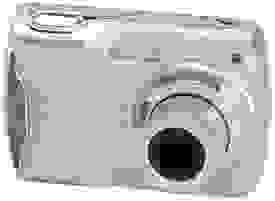 January 3, 2007 – Today, Pentax Imaging Co. announced the entry-level Optio E30.As the successor to the Optio E10 introduced at CES 2006, the Optio E30 holds a higher resolution count of 7.1 megapixels and a price tag of $149.95. It will be available in February. 
As part of the "easy-to-use line," according to a Pentax press release, the new Optio E30 has a standard feature set that borrows some of its personality traits from its ancestor the E10.  The Pentax E30, like the E10, has a 2.4-inch, 110,000 pixel LCD screen and a 3x optical zoom lens.  The E30, however, expands the sensitivity range to ISO 80-400, up from ISO 64-200 on the earlier model. 
For $50 less than the original E-series camera, the Pentax E30 does lose a limb; it loses the top mode dial for quick access to presets.  Instead, the Optio E30 comes with a Mode Palette interface that shows all 15 icon-based scene modes on the LCD screen, including Landscape, Pet, Food, and other automatic settings.  For new digital camera users, the E30 includes a Green Mode, which functions as an automatic setting that selects exposure, ISO, and white balance which eliminates the guess work for a novice user.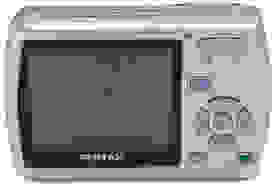 The Optio E30 is also ImageLink compliant, enabling users to print images from compatible docks without connection to a computer. 
The Optio E30 comes with a movie mode of 640 x 480 at 28 fps.  Although there are no movie editing modes on the camera, the E30 does include still editing options such resizing, trimming, and border effects. 
Called a "convenient travel companion," according to the release, this introductory camera weighing 4.9 ounces (without accessories) at 1.4 inches deep is compatible with AA batteries.  The Pentax E30 is also compatible with SD and SDHC media cards.