Cameras
Pentax Announces Waterproof WS80, Slim P80, Value-Priced E80
Pentax Announces Waterproof WS80, Slim P80, Value-Priced E80
August 5, 2009 – Pentax today introduced three new Optio compact cameras, including the waterproof WS80, the slender P80 and the inexpensive E80.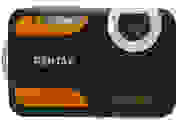 The WS80 can be used down to five-foot (1.5m) depths, taking both 10-megapixel stills and 720p high-def video. It has a 5x internal zoom lens, equivalent to a 35-175mm on a 35mm camera, with maximum aperture of f/3.8-4.7. Full-resolution ISOs run from 64-1600, with extended ISO 3200 and 6400 settings available at reduced 5-megapixel resolution. Similarly, the modest 1.1 shot per second burst mode is complemented by up to 5.6 shot per second speeds shooting at 5 megapixels. There are no manual exposure controls, but manual focus is available.
In addition to Blink Detection and Smile Capture, features shared by all four cameras introduced today, the WS80 offers what's called a Small Face filter. According to Pentax, this 'helps reduce a subject's face so that it appears smaller in proportion to the body to produce more flattering well-balanced portraits.' We have not seen this feature in action, so can only wonder about its aesthetic effect.
The WS80 provides a standard 2.7-inch 230,000-dot LCD on a compact 3.6 x 2.3 x 0.9 inch (91.4 x 58.4 x 22.9mm) body. The camera comes in two color styles, one black with orange accents, the other white with purple accents. It is scheduled to ship in September for $249.95.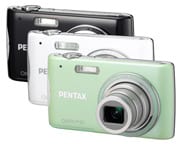 The Optio P80 delivers a 4x wide angle lens (27.5-110mm equivalent) in a slim tapered body that measures 0.8 inches (20.3mm) at its widest point and 0.6 inches (15.2mm) at its thinnest. It shoots 12-megapixel stills and 720p video, with ISOs to 1600 at full resolution and 6400 at 5 megapixels. Available colors include black, pearl (which looks suspiciously like white) and mint (green). It will sell for $199.95 starting in September.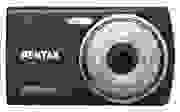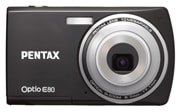 Also slated for a September introduction is the Optio E80, priced at $129.95. It's a 10-megapixel camera powered by AA batteries, with a 3x zoom equivalent to a 32-96mm. The E80 does attempt 720p recording but, at just 15 frames per second, it may be more practical to shoot at more modest resolutions. Like the other cameras announced today, it offers ISOs to 1600 at full res and 6400 at 5 megapixels, along with a 2.7-inch 230,000-dot LCD and manual focus and white balance capabilities. As for color schemes, the E80 will be available in conservative silver and black.