*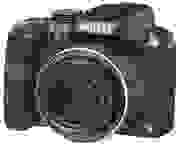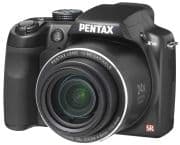 March 2, 2009 - *Pentax entered the compact ultra-zoom market today with the X70, featuring a 24x zoom lens (26-624mm equivalent) that puts it in competition with the Nikon P90 and Kodak Z980 for pure telephoto power (only the 26x Olympus SP-590UZ offers a wider range). The X70 is scheduled to ship in April for $399.95.
The 12-megapixel X70 provides a 2.7-inch LCD, sensor-shift image stabilization and face detection for up to 32 individuals. In addition to full auto and program exposure modes, aperture-priority, shutter-priority and full manual exposure are supported. There are also twenty preset scene modes, a digital wide mode that automatically stitches two images together horizontally, and a macro mode that can shoot subjects as close as 0.4 inches (1 cm) from the lens.
High-speed continuous shooting at 11 frames per second is available, for up to 21 images, at a reduced 5MP resolution. While 720p movies can be recorded, they're limited to 15 frames per second; maximum size for 30-fps video is 848x480.