Cameras
Pentax Introduces Optio S12
Jan. 23, 2008 – Pentax today introduced the Optio S12, which it calls the "smallest, most stylish 12-megapixel camera in its class." The camera features a face detection system that tracks moving faces and allows users to choose which face to priori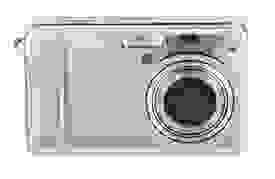 Jan. 23, 2008 – Pentax today introduced the Optio S12, which it calls the "smallest, most stylish 12-megapixel camera in its class." The camera features a face detection system that tracks moving faces and allows users to choose which face to prioritize, as well as a Dynamic Range Adjustment feature to optimize the highlights and shadows of an image. The S12 will retail for $279.95 when it ships in April.
The S12, the successor to last year's S10, is certainly pocket-friendly, measuring 3.6 x 2.2 x 0.9 inches and weighing 4.6 ounces without battery or memory card. It increases the megapixel count to 12, up from the S10's 10 megapixels. It has a 3x optical zoom lens and a 2.5-inch, 232,000-pixel LCD, the same size and approximate pixel count as the S10's LCD. The LCD can be viewed at 170 degrees horizontally and vertically for a wide angle of view.
Face detection on the S12 can recognize up to 12 faces at once, and utilizes FotoNation's face tracker technology to track faces as they move across the screen. In addition, users can select which face to prioritize if there are multiple faces in the frame.
The S12 has Pentax's Auto Picture mode, which automatically detects one of six Scene modes, shooting with the proper settings without the user having to set the Scene mode on the mode dial. A Green button on the camera also allows users to assign commonly-used functions for quick access, and Green mode enables beginners to shoot with most functions automatically set.
The Dynamic Range Adjustment function corrects tones in the highlights and shadows. Through face detection, it highlights subjects while maintaining background tones. The function can be changed depending on the photography situation.
Like the S10, the S12 features digital image stabilization, which automatically boosts the camera's sensitivity as high as ISO 3200 to reduce blur in low-light situations. It has 21 MB of internal memory, is PictBridge compatible, and has FotoNation's red-eye reduction function to prevent red eyes in images using flash.
The S12 records MPEG-4 movies with sound at 640 x 480 resolution at 30 frames per second. It runs on a rechargeable lithium-ion battery and comes in silver or black.