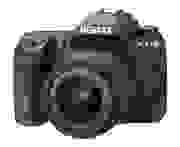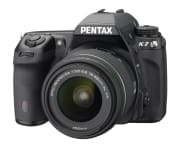 *May 20, 2009* – Pentax today announced the K-7 digital SLR with a new 14.6-megapixel sensor and 720p movie recording capability, priced at $1.299.95 for the body alone. Also new in this model is the 77-segment metering system and an enhanced in-camera shake reduction system that compensates for rotational movement in addition to the standard horizontal and vertical.
The K-7 supports Live View shooting on its 3-inch, 921,000-dot screen, and the optical viewfinder boasts 100% field of view. The weather-resistant magnesium camera body measures 5.1 x 3.8 x 2.9 inches (129.5 x 96.5 x 73.7 mm) and weighs 22.9 oz. (649g) without battery, making it 7 percent smaller than the company's K20D.
Movie shooting is available in 1280 x 720 (720p) widescreen mode as well as 1536 x 1024 (3:2 aspect ratio) and 640 x 416, all at 30 frames per second. A jack is provided for connecting an optional external microphone, and an HDMI port allows direct connection to a high-def TV.
The K-7 supports in-camera lens correction for distortion and lateral chromatic aberration with DA series lenses. It also provides an innovative composition adjustment feature. Making use of the shake reduction motors, the photographer can shift image framing in Live View mode without moving the camera, a convenience when you need to make minor adjustments while shooting on a tripod.
A high dynamic range feature takes a three-shot sequence and combines them in-camera to produce a single composite image. Multiple exposure and interval shooting is also supported. Like the Pentax K2000 (reviewed here), a range of digital filters is provided for color, sharpness and contrast control, along with several image effects options.
The top shutter speed is 1/8000 second, the official ISO range is 100 to 3200, with an expanded range setting of 6400, and the burst rate is 5.2 frames per second, according to Pentax.
Also included in today's announcement is the D-BG4 battery grip ($229.95) and two new weather-resistant lenses, the smc DA 18-55mm F3.5-5.6 AL WR ($199.95) and the smc DA 50-200mm F4-5.6 ED WR ($249.95).  All of the newly introduced products are scheduled to ship in July.