August 7, 2006 - Today, Pentax Corp. introduced a new 7-megapixel waterproof point-and-shoot, the Optio W20. The new compact camera succeeds the W10 and will retail for $300 when it becomes available in September.
Following in the footsteps of the Optio W10, an earlier model with the same price tag, the Pentax Optio W20 is equipped with the same optical zoom and similarly-sized LCD. However, it adds more resolution and increased light sensitivity. The W20 camera is fitted with a 7-megapixel CCD sensor, 3x optical zoom lens, 2.5-inch anti-glare LCD screen (formed of 115,000 pixels) and a maximum ISO sensitivity of 1600.
The Pentax Optio W20 is also part of Pentax's waterproof series. Compliant with the JIS Class 8 waterproof standard and Class 5 dustproof standard, the W20 can be submerged underwater for up to 5 feet, for a maximum of 30 minutes, without the use of an additional camera casing. The Optio W20's movie feature also has a mermaid mode for underwater JPEG recording of 640x480 pixels at 30 fps.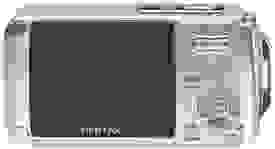 The Optio W20 includes the increasingly-popular face recognition auto focus/auto exposure portrait mode and a 9-point auto focus system, including tracking auto focus for moving subjects.
Equipped with 25 shooting modes and 15 playback modes, the waterproof compact also includes additional filter functions, such as black and white conversion and a fish-eye lens effect.
Previous W-series models include the 5-megapixel Optio WP priced at $300 and the 6-megapixel Optio WPi at $350.
The Pentax W20 camera comes with 21.9 MB of internal memory, an image recovery function and ACDSee included software.