Cameras
Pentax Intros K-x, $650 SLR with Live View, HD Video
Pentax Intros K-x, $650 SLR with Live View, HD Video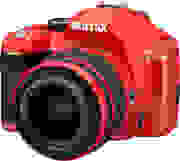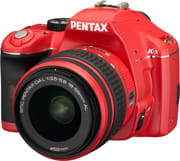 September 16, 2009 - Pentax raised the bar on entry-level SLR features today with the Pentax K-x, a $650 model, including lens, that incorporates Live View shooting and 720p video recording not found in competing cameras at the price. In another unusual twist, the K-x will be available in black, white, red and navy.
The 12.4-megapixel K-x doesn't skimp on key photographic specs either. It offers in-camera image stabilization, 4.7 shot per second burst speed and a maximum shutter speed of 1/6000 second. Standard ISOs range from 200-6400, with ISO 100 and 12,800 available as expanded settings. There's an 11-point autofocus system when shooting with the viewfinder and contrast detect autofocus with face detection in Live View mode. Full manual exposure, aperture-priority, shutter-priority, auto exposure and a variety of preset scene modes are available.
The K-x will shoot in both JPEG and RAW formats. Video is stored in motion JPEG format, at up to 1280 x 720 resolution, at 24 frames per second. There is no HDMI port for connecting to a high-def TV for playback, though.
The LCD measures 2.7 inches diagonally, with 230,000-dot resolution. There's a pop-up flash and a hot shoe for connecting an external strobe. The camera is powered by four AA batteries.
The Pentax Kx has a lightweight plastic body over a stainless steel frame. The camera measures 4.8 x 3.6 x 2.7 inches and weighs 20.5 ounces with batteries and SD memory card installed.
There will be a choice of three camera and lens configurations, scheduled to ship in October. The K-x with an smc Pentax DA L 18-55mm will sell for $649.95. A two-lens kit adds a 50-200mm zoom and costs $749.95. Finally, a kit combining a longer-zoom 55-300mm lens with the 18-55mm will sell for $849.95.