*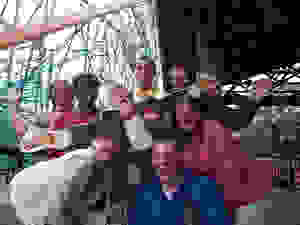 May 6, 2005 *- If you notice one camera, the Pentax OptioWP, in the hands of Six Flags theme park employees capturing your moments of merriment this summer, it's because Pentax is now the official digital camera of the Six Flags theme park company.
'This partnership blends the fun of a classic American theme park with a popular photography brand,' said Ned Bunnell, director of marketing, for Pentax Imaging Company. 'Six Flags is an American institution that offers a perfect background for visitors to capture and share memorable Pentax digital photography.'
Under the agreement, Pentax Imaging Company will expand its presence at the parks and have category exclusivity and promotional rights in-park. 'Digital photography will rarely be as easy, convenient and fun as it will for Six Flags visitors in the coming months,' Bunnell said. There are three key elements to the Pentax/Six Flags agreement that the public will see: one free Six Flags admission to Pentax camera owners, roaming Pentax Click Crews snapping pics of customers, and special Pentax Picture Spots where the whole Six Flags experience can be captured in one location. Pentax will also enjoy key product and advertising placement around the Six Flags theme parks.
According to Hank Salemi, senior vice president of marketing for Six Flags, the partnership 'provides each of us with opportunities to create meaningful consumer and trade promotions that can grow our respective businesses. As for our visitors, they will enjoy the fun of capturing and sharing digital images of their Six Flags adventures with family and friends.' According to the Pentax press release, "On three select days during the 2005 season, Pentax camera owners who present their camera at any Six Flags theme park admissions area will receive one free admission to that park, valid that day."
Additionally, at ten select parks there will be Pentax "Click Crews" equipped with Pentax OptioWP digital cameras that will take photos and offer photography assistance to guests. Theme park visitors will be able to check out the Click Crew pics at a special Pentax webpage, as well as sending those same photographs through email to loved ones and friends.
"All Six Flags parks will feature Pentax Picture Spots where visitors may capture images of their group with life-size character cutouts of Six Flags' 'Ambassador of Fun,' Mr. Six, set against the backdrop of the park's thrilling rides and attractions," according to the Pentax press release. Considering the millions of visitors of the 28 Six Flags locations, Pentax sees a significant sales potential with the relationship: 'We expect this sponsorship will deliver a strong return-on-investment in raising awareness of the Pentax Optio digital brand,' added Bunnell.