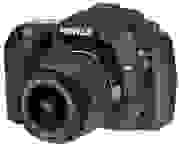 January 23, 2007 – Pentax today released a firmware update, version 1.10, to their K10D, . Now available online for download, the new firmware allows Windows and Mac users to easily switch between options and corrects a few minor bugs.
The K10D firmware v1.10 fixes long exposure banding and corrects battery display.
Overall, the firmware update is designed to facilitate oscillation between camera functions. Users can now select a center AF point with one touch in AF select mode. There are also more options to switch ISO settings with the OK button or the mode dial in Aperture and Time Priority modes.
Pentax K10D users can download the firmware update at http://www.digital.pentax.co.jp/ja/info/20070123e.html.