Pentax has unveiled its 12th generation digital adventure camera at the CP+ photo show in Yokohama, Japan. The Optio WG-1 boasts improvements to the camera's durability in extreme conditions, upgrades to the sensor and digital microscope mode, and—on some models—built-in GPS.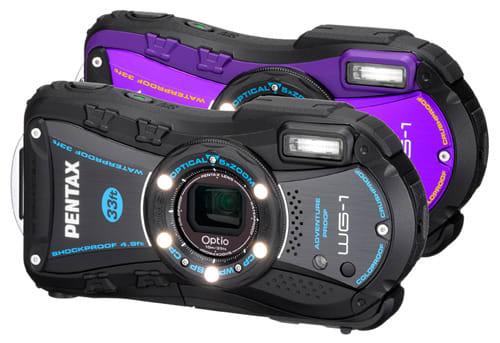 The WG-1 and WG-1 GPS meet Japanese industrial standards (J.I.S.) for dustproofing, are waterproof up to 33ft., shockproof up to 4.9ft., and coldproof down to -10°C. Oh... and they're crushproof too. The 28-140mm wide angle lens has 5x optical zoom and is partnered with a new 14-megapixel sensor. The WG-1 inherits the 2.7-inch LCD and 720p video recording from the W90, but has improved its enhanced digital microscope mode. (The camera now has five LED lights, including two blue lights to aid in color balancing.)
The Pentax Optio WG-1 GPS model will be available in black or yellow green for an estimated MSRP of $399.95. Without GPS, the W-G1 will come in black or purple for an estimated MSRP of $349.95. Both cameras are expected to hit store shelves in April.

** ** *
February 7, 2011(GOLDEN,CO) – PENTAX Imaging Company has announced its 12 generation of adventure series digital cameras – the PENTAX Optio WG-1 and PENTAX Optio WG-1 GPS. Featuring outstanding waterproof, dustproof, shockproof, coldproof, and crushproof capability, these extra-rugged models take adventure photography to new heights (and depths).
The new and improved features on the PENTAX Optio WG-1 include:
• 14 megapixel sensor.

• Waterproof to 33 feet.

• Shockproof, ruggedized design to withstand falls up to 5 feet.
• New crushproof construction* to withstand weight force up to 220 pounds (100kgf kilogram-force).
• Enhanced Digital Microscope mode that offers five macro LEDs for excellent macro lighting plus a detachable macro stand for steadier capture.

• Fast Face Detection technology, Smile Capture, and Blink Detection for portraits including a handy new Self-Portrait Assist mode perfect for facebooking and other social networking activities.

• Available with and without GPS, the WG-1 GPS functionality* tracks and records positional data recording with images for geo-tagging applications making it easy for users to check the shooting locations of captured images and link the data with PC-based maps.
Other important WG-1 features include:
• Coldproof to sub-freezing temps of minus 10 degrees C (14 degrees F).
• Dustproof protection for dry, dusty environments.
• Wide angle 5X internal optical zoom lens (28-140mm equivalent).
• Large 2.7 inch LCD features a wide angle 16:9 aspect ratio with anti-reflective coating.
• Video capture in widescreen 720p HD at 30 frames per second.
• Pixel Track and Digital Shake Reduction ensure sharp, blur-free images.
• An autofocus assist lamp helps to quickly and accurately focus, even in challenging lighting.
• An HDMI port to play back beautiful, high definition images and video on HDTVs.
• Infrared remote control compatibility with the waterproof Remote Control WP, as well as other PENTAX infrared remotes.
• Designed with the look of mountaineering equipment, the new Optios includes a woven web fabric strap in complementary color accents complete with a carabiner to attach the camera to a backpack and other outdoor gear.
• Eye-Fi wireless SD memory card connectivity for built-in Wi-Fi capability to transfer photos and videos from the camera to a computer or an online sharing site (Eye-fi cards sold separately.)
Priced at $349.95 USD, Optio WG-1 will be available in a choice of Black or Purple, while the Optio WG-1 GPS will be priced at $399.95 USD and available in Black or Yellow Green. Both cameras will ship in April 2011. A waterproof infared remote control (sold separately) for use with the PENTAX Optio WG-1 and other infrared compatible Optio models is available now for $29.95 USD.
For more information, please visit www.pentaximaging.com.
{:{PhotoGallery article.attachments}:}