Cameras
Pentax Unveils New WG-3 and WG-10 Waterproof Cameras
The new WG-series models look like their predecessors, with some useful new features.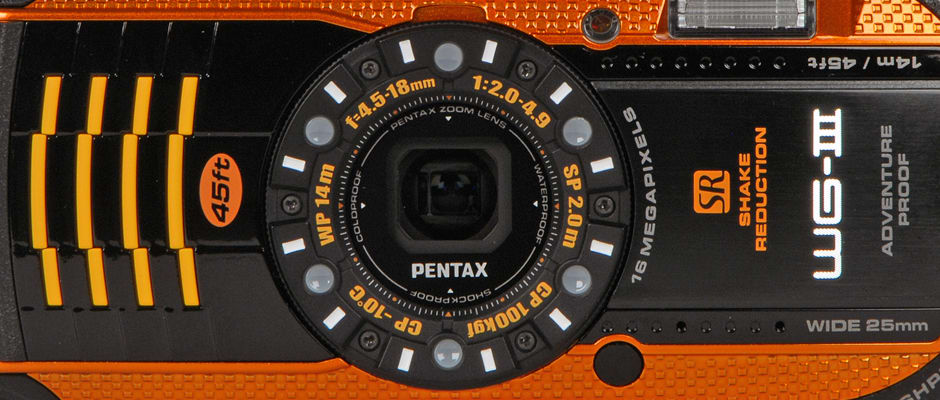 Credit:
Pentax today announced two new compact, waterproof cameras ahead of CP+ 2013 in Yokohama, Japan. The super-rugged WG-3 will debut alongside the less-tough WG-10 at the show.
The WG-10 and WG-3 models both carry on the WG series' Batmobile-esque design tradition, with a rubber coating, plenty of ridges, and a contoured body, all to aid grip.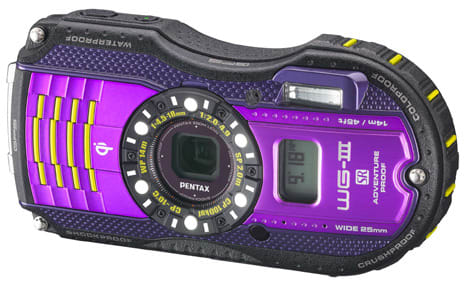 The WG-3 features a 4x optical zoom lens with a maximum aperture of f/2—pretty bright for a compact, and in league with last year's excellent Olympus TG-1. Like last year's WG-2, the WG-3 is built around a backlit 16-megapixel CMOS sensor, with a 3-inch LCD on the back and the now-familiar set of LED lamps around the lens ring for better macro shooting, and will be available with or without built-in GPS. New this year is a dedicated low-power LCD on the front of the camera, which can display time, pressure, and altitude, though it's exclusive to the GPS version.
Of course, the WG-3 is extra tough, rated to be waterproof to 45 feet, withstand drops from 6.6 feet, survive down to 14°F, and keep out bits of dust and sand.
The new WG-10 doesn't replace any particular model, but it's a bit less tough and less expensive than the WG-3. It's waterproof to 33 feet and shockproof to 4.9 feet, with the same cold- and dustproofing as its big sibling. It's built around a 5x optical zoom lens and 14-megapixel CCD sensor.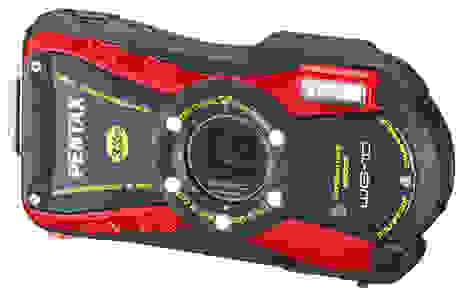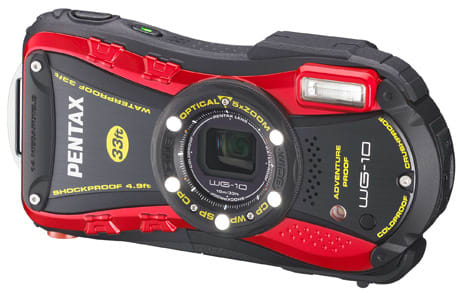 So, like some of its competitors in the tough-cam space, Pentax will sell waterproof cameras at a few different price points. The WG-10 is expected to debut for $179.95 in mid-April. The WG-3 will debut in March, with the GPS version going for $349.95 while the standard WG-3 will be available for $299.95.
Pentax also announced two accessories today, including a body-cap lens for the Q system and (finally!) an updated external flashgun.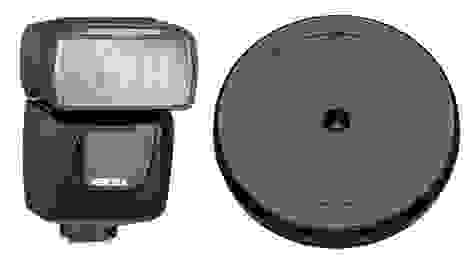 The body-cap lens is designed to provide toy-camera–like effects for Q cameras (and on the cheap, at that), and is expected to launch sometime this summer. Details about the flash are also sparse, but Pentax states that it will feature guide number of 36 at ISO 100 with both horizontal and vertical bounce available. The flash is also expected to debut this summer. Pentax has not yet announced prices for either accessory.
For more information on today's announcements, see the WG-3 press release below, or head to Pentax's press website.
---
PENTAX Introduces 15th Generation Ruggedized Camera – the WG-3 GPS and WG-3
Performance meets photographic demands with fast F2.0 lens, in-camera shake reduction, and increased waterproof, crushproof and shockproof ratings
Denver, CO (January 29, 2013) — Leveraging its long-standing and comprehensive expertise in the waterproof category, PENTAX RICOH IMAGING AMERICAS CORPORATION (PENTAX) has introduced the 15th generation in its adventureproof line-up of point and shoot cameras, the WG-3. Boasting a diverse set of new features and improved specifications, the WG-3 is the ideal companion to capture life's planned and unplanned adventures.
The WG-3 boasts a rich feature-set that has been optimized to meet the rigorous and demanding needs of the adventurous photo enthusiast, whose travels and exploits can take them into a variety of scenarios too challenging for the traditional point-and-shoot. Its newly designed, large-aperture, 4x optical zoom lens (with the maximum aperture of F2.0 at wide-angle end), high-sensitivity, back-illuminated 16 megapixel CMOS image sensor, and sensor-shift Shake Reduction system ensure sharp, high-quality, low-noise images.
The rugged features of the WG-3 include an improved waterproof depth rating to 45 feet, while the WG-3 GPS offers enhanced GPS functionality for geo-tagging images that can be mapped back to your journey and a dedicated second display showing compass direction, elevation or depth below water. Additionally, the WG-3's category defining Digital Microscope mode and six LED lights surrounding the lens barrel enable focusing as close as one centimeter from the subject producing bright, shadow-free macro images.
For the unplanned adventure, the WG-3 offers a worry-free shooting experience with an increasingly ruggedized body that is shockproof from drops of up to 6.6 feet, coldproof to 14 degrees Fahrenheit and crushproof, withstanding up to 220 foot pounds of force. The WG-3's rugged design is enhanced by its folded optical zoom lens that reduces its vulnerability to moisture and dust while ensuring a compact and pocketable size without the protrusion of a lens barrel. Finally, the sturdy construction and sharp design, unique to the WG-3, features a texturized grip for a controlled ergonomic grasp and colorful grip accents to further enrich its rugged styling.
"The WG-3 GPS truly leverages our experience in this category," said John Carlson, Sr. Marketing Manager, PENTAX. "New features like the easy-to-read second LCD, dedicated video record button, double-locking battery door and wireless charging capabilities show PENTAX's dedication to improving our offering in this category."
To enhance creative expression during shooting PENTAX offers an optional lens adapter with wide-angle coverage to 20mm, and the SportMount Chest Harness which allows for the hands free capture of adventures and features a quick and easy mechanism to review your images and footage without having to remove the camera from its mount.
Pricing and Availability
Priced at $349.95 the new WG-3 GPS is available in a choice of purple or green. The WG-3 is available in black or orange for a price of $299.95. Both models will be available at retailers nationwide and online in March 2013.