Pentax has finally unveiled the anticipated Optio WG-2, successor to their excellent WG-1 waterproof camera. The new model's durability features have been upgraded, and the chassis has been redesigned with a very attractive armored look.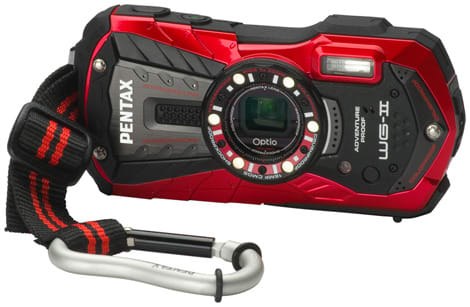 The WG-2 shoots with a new BSI CMOS sensor capable of 16 megapixel resolution. Full HD video capture at 30 frames per second is now possible, and clips are encoded in h.264. The unique macro LED array will receive an extra light (for a total of six), which should allow proper lighting of subjects as close as 1 cm away.
Like the WG-1, the WG-2 will arrive as two separate models: one with GPS, and one without. Pentax claims a new GPS module will provide quicker start-up times and longer battery life with GPS active.
Underwater shooting will now be possible down to a depth of 40 feet. The camera is also shockproof from a 5 foot drop, crushproof up to 220 pounds-force, coldproof down to -10 degrees Celsius, and dustproof.
The Pentax Optio WG-2 and WG-2 GPS will be available by March for $349.95 and $399.95 respectively. The standard model will be available in black or red, while the GPS version will be available in orange or white.
---
LET THE ADVENTURE CONTINUE:

PENTAX UNVEILS Optio WG-2 and Optio WG-2 GPS
13th Generation PENTAX Adventure Cameras Now Waterproof to 40 Feet, New Backlit 16 MP Sensor, Shoots 1080p Video and Feature Six LED Lights, and

Optional SportMount Chest Harness
DENVER, CO. (February 7, 2012)…PENTAX RICOH IMAGING AMERICAS CORPORATION just pushed the PENTAX WG adventure camera series to the edge for the 13th time with the introduction of the PENTAX Optio WG-2 and PENTAX Optio WG-2 GPS digital compact cameras. These rugged, waterproof, dustproof and shock-resistant models feature more durability than ever before as well as improved image quality in high-sensitivity shooting and Full 1080p HD movie recording capability.

The Optio WG camera family is ready for adventure in any outdoor setting. Foremost in the latest models' feature set is a new back-illuminated 16 megapixel CMOS image sensor and powerful imaging engine that perform superbly in high-sensitivity settings such as night shooting or in poorly illuminated indoor settings. The WG-2 models deliver clear, sharp images with less noise than previous models.
Other major improvements in the latest models include:
• High-resolution Full HD 1080p movie recording (1920 x 1080 pixels) at 30 FPS with high quality h.264 compression.

• Waterproof to depths of 40 feet.

• Digital Microscope mode with one additional macro LED (total of six lights) for excellent macro lighting of subjects as close as 1 cm.

• A newly designed GPS module that delivers a shorter time lag before GPS start-up and longer battery life during GPS activation.

• A new optional SportMount Chest Harness that straps-on the WG-2 for hands-free HD movie capture of every exciting moment of adventure on land, sea or in the air.

(more)

 

Other outstanding WG-2 features include:
• Shockproof design protects camera drop up to 5 feet.

• Crushproof construction withstands weights up to 220 LBF (pound-force).

• Coldproof to sub-freezing temps of minus 10 degrees C (14 degrees F).

• Dustproof design protects the camera from dry, dusty environments.

• Wide angle 5X internal optical zoom lens (28-140mm equivalent).

• Large 3 inch LCD features HVGA resolution (460,000 dots) and anti-reflective coating on its protective cover.

• Hardened cover with SP coating protects internal lens elements.

• An HDMI port (Micro, Type-D) plays back beautiful, high definition images and video on HDTVs.

• Pixel Track, Digital, and Movie Shake Reduction ensure sharp, blur-free images and video.

• Fast Face Detection technology including Smile Capture and Blink Detection to capture perfect portraits.

• A Handheld Night Snap mode produces a single blur-free, composite image from four images of the same scene.
• An autofocus assist lamp helps to quickly and accurately focus.

• Extended dynamic range helps bring out extra highlight and shadow detail.

• PENTAX infrared remote control compatibility for remote shooting.

• GPS and non-GPS versions are available in several new stylish color options.
Priced at $349.95 USD, Optio WG-2 will be available in a choice of Black or Vermillion Red, while the Optio WG-2 GPS will be priced at $399.95 USD in a choice of Shiny Orange or Gloss White. The new SportMount Chest Harness will be priced at $49.95 USD and should be available late spring or early summer 2012. Optio WG-2 cameras can be pre-ordered on www.pentaxwebstore.com to ship by March 2012. More information is available here: www.pentaximaging.com/news and product images are available here: http://www.pentaximaging.com/press/pressfiles.html
World-renowned for pushing camera durability, size, color, and design to the limit, PENTAX is a leader in the production of adventure ready digital cameras, weather-resistant digital SLRs and stylish, compact cameras, as well as lenses, flash units, binoculars, scopes, and eyepieces. For more than 90 years, PENTAX has developed durable, reliable products that meet the needs of adventurous consumers and businesses. With new headquarters in Denver, Colorado, PENTAX RICOH IMAGING AMERICAS CORPORATION is a subsidiary of PENTAX RICOH IMAGING COMPANY, LTD. effective October 1, 2011. Additional details may be found here: www.pentaximaging.com/news
{:{PhotoGallery article.attachments}:}