Cameras
Phase One 645 Camera System Now Shipping
The Phase One 645 Camera system is now shipping to customers worldwide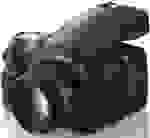 The Phase One 645 Camera system is now shipping to customers worldwide and is available through Phase One dealers who can provide a demo of the system and full pricing details.
The Phase One 645 camera system is available today in a choice of five different configurations, based on selected digital camera back: P 45+ (maximum resolution, fine details at 39 mega pixels), P 30+ (up to ISO 1600 sensitivity, fast capture, 31 mega pixels); P 25+ (near full-frame at affordable price, noise-free exposures up to 1 hour, 22 mega pixels), P 21+ (fast, unlimited burst capacity, small RAW file size, 18 mega pixels ), P 20+ (1:1 aspect ratio, cost effective, entry-level solution, 16 mega pixels).
Up next
Get Reviewed email alerts.
Sign up for our newsletter to get real advice from real experts.