Cameras
Photo App of the Week: Instagram for Android
We took Instagram's Android port for a spin to see how it holds up against the iOS version. Read on for our thoughts on this incredibly popular app.
Instagram is arguably the most popular photo-related app available on Apple devices, with more than ten million users on iOS alone. It has already been a massive hit on Android, with more than one million downloads the day of its release.
So what is Instagram? For those not among the roughly 30 million current users, Instagram is a free photo app that lets you take, share, and edit photos. What separates it from the thousands of other similar apps is its slick interface, collection of hipster-esque digital filters, and constant desire to connect you with other Instagram users.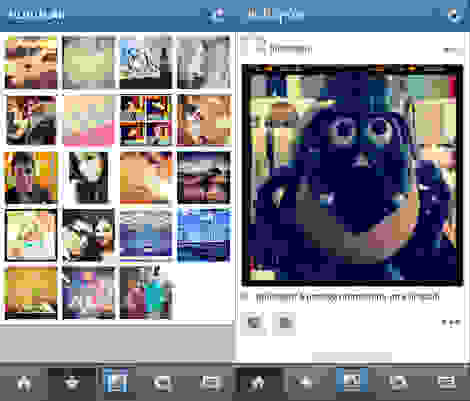 While Instagram is, on its surface, a photo app, it's really a social media service. Most of the app's functions are not related to the quality or look of your photos, but rather what you do with them after they've been processed. The app lets you look at popular Instagram shots, follow and be followed, and comment and promote the shots of others.
Unlike most other apps, this gives you an instant feeling of connectivity with other Instagram users. When you finish processing your photo you're not merely presented with a finished version, but rather immediately prompted to caption and upload it to Instagram and other social sites like Facebook.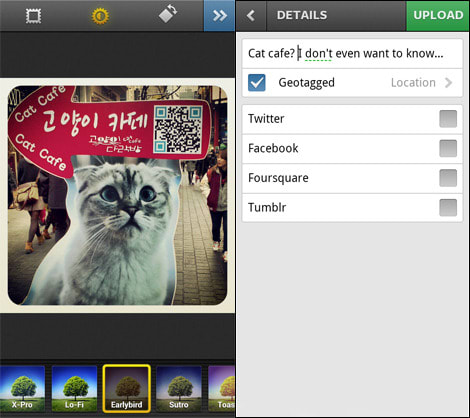 The "Instagram look" is alive and well in this ported version, with all the same digital filters as the iOS version. The only minor difference is the name of the "X Pro" filter (it's X Pro II on iOS, just X Pro on Android) and a filter to increase contrast rather than selective blur as on the iOS app.
The only major difference between the iOS and Android versions is the integration of the camera directly into the app on Apple devices. This has been a standard problem with Android versions of apps, usually requiring you to boot up the standard Camera app instead of taking photos right in the interface.
Instagram for Android gets around this by having you pick a source for your photo, either your gallery or the camera. If you select camera it automatically takes you to the Camera app, has you take a photo, then immediately ushers you back into Instagram for editing. The process is a little jarring, but relatively painless. While we'd prefer a smoother integration between taking and editing photos on the Android version, that seems to be Google's call given the ubiquity of this problem in apps that we've tested.
In a world rife with social media outlets, Instagram is like anything else; it's not the quality of the software but the experience of interacting with other users that's important. With such a massive collection of users already (and a vested, constant interest in getting you to connect with them), we have to give Instagram for Android high marks, with a ready-built community that is sure to make it just as popular as its iOS cousin.