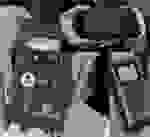 Las Vegas, Nevada, March 10, 2007 – Whether it is shooters of RAW format or vacationers with large volumes of pictures, photographers are increasingly looking for ways to store or view their gigabytes upon gigabytes of images. A few manufacturers are launching new photo storage devices that range from $140 to much more with high storage capacities of up to 160GB.
Digital Foci

*Digital Foci Photo Safe 40GB
Digital Foci Photo Safe 80GB
Digital Foci Photo Safe 120GB* - Digital photo accessory manufacturer Digital Foci introduced this week ITS hard drive photo storage device, Photo Safe (model number PSF-250) in 40GB, 80GB, and 120GB options. The portable device, weighing 0.6lb., is marketed towards those looking to keep their photos organized while traveling. "It is an inexpensive storage device for vacationers or photographers," said Digital Foci Director of Marketing Tiffany Guh.
With claims that it has the fastest copy speed in its category, the Digital Foci Auto Copy button records images at 3.4MB per second, equivalent to 1GB in about 5 minutes.
Unlike some photo storage devices, the Digital Foci Photo Safe does not having photo viewing abilities. The Photo Safe does have a backlit screen to indicate copy status and battery life. For viewing capabilities, users might upgrade to the Digital Foci Picture Porter Elite model introduced last year.
The new Digital Foci Photo Safe device accepts CF, MicroDrive, MMC, sD/HC, MS, MS Pro, xD card with its built-in slots. With an adapter, Photo Safe can read mobile memory with RS-MMC, mini-SD, MS Duo, and MS Pro Duo and is compatible with Li-ion batteries. The Digital Foci Photo Safe will retail for $139 for the 40GB unit, $179 for the 80GB device, and $229 for the 120GB photo hard drive. The Digital Foci Photo Safe storage devices will debut in April.
Jobo

*Jobo Spectator 40 GB
Jobo Spectator 80 GB
Jobo Spectator 120 GB* – Jobo announced this week their new line of Spectator photo storage viewers that has gained some attention at PMA. With three storage options of 40, 80, and 120GB of hard disk space, the Jobo storage devices are tailored for the professional photographer on the go, according to the company website.
The Jobo Spectator has a 2.5-inch LCD display so that users can view their photos with zoom. When users insert a memory card, the Jobo device indicates verification when copying is completed. Jobo also offers their higher-end Giga Vu Pro evolution model that offers incremental back-up software for one-touch auto synching to another external drive.
The Jobo Spectator will retail for $249 for the 40GB model, $299 for the 80GB, and $379 for the 120GB unit, according to Jobo public relations representative Annika Hummerich. The Jobo Spectator will be available in the spring.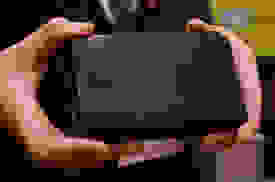 Western Digital

*WD Passport Portable 60GB
WD Passport Portable 80 GB
WD Passport Portable 120GB
WD Passport Portable 160GB* – As number one in retail portable drives, according to Western Digital press relations manager Constance Griffiths, the Western Digital Passport Portables are geared for business professionals on the go, as well as travel photographers.
The updated WD Passport was introduced in September 2006 but has since seen updates in software. It is capable of synching data to Microsoft Outlook, Word, and Excel. For photographers, the WD portable drive also includes the Google Desktop Search tool and Google Picasa for automatic photo organization.
The Western Digital drives do not have viewing capabilities but offer USB computer connection. There are four WD Passport drives with up to 160GB of storage for an affordable $129 for their max storage device, according to Griffiths. The WD Passport weighs 5oz. and comes in a piano-black finish.