Tsuyoshi Kikukawa, President of the Camera and Imaging Products Association (CIPA), delivered the keynote speech at this year's CP+ convention in Yokohama Japan. Mr. Kikukawa's address, which was simulcast with an English interpretation, talked on topics ranging from the history of Japanese camera shows, to the future of imaging products, and even went into details about his beloved pet poodles (of whom he displayed photographs).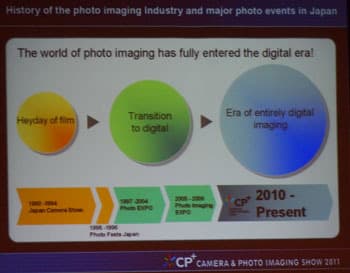 In case you're curious, Mr. Kikukawa gave some details about the size of the CP+ show. In 2010, its first year of existence, CP+ attracted over 41,000 attendees. This included 428 journalists, 699 exhibit booths, and 77 companies. The 2011 show is expected to be larger, as the show has been lengthened to take place over a longer period of time. Mr. Kikukawa stated that "CP+ aims to become one of the top three photo events in the world," and that this year the show is pushing the idea of being a "forum for new products."
And with that, Mr. Kikukawa essentially summed up why we're at CP+ this year—to bring you hands-on reviews and in-depth details about the latest camera products to be announced.