February 28, 2005 – Ricoh released the Caplio R2 today, an upgrade from last year's R1. The new Ricoh R2 follows in the updating trends of other manufacturers this year with the larger LCD screen, slim camera body, internal memory, and more battery power. With a battery life of about 500 shots, the 5.19-megapixel 1/2.5-inch CCD and Ricoh Smooth Imaging Engine efficiently capture images and movies to the 28 MB of internal memory or optional SD or MMC card. The digital camera has a 4.8x optical zoom lens that retracts into the flat camera body. Unfortunately, the Ricoh Caplio R2 is currently for release in Japan only.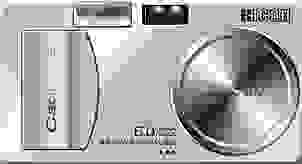 Maintaining a slim inch-wide profile, the Ricoh R2 maintains flat surfaces and sharp lines similar to the Canon Digital ELPH line, although this Ricoh is slightly longer at 4 inches. With a retractable 4.8x optical zoom lens, the camera can focus as close as 1 cm in macro mode. The 28-135mm equivalent lens can even focus manually, which is a rare option on a compact digital camera. This Caplio also has a 5-step auto focus zoom option for quick shots. The R2 comes in sleek black and silver colors.
Last year's R1 had an optical viewfinder and 1.8-inch LCD; the new R2 rids itself of the viewfinder and opts for a larger display screen instead. The 2.5-inch LCD has 114,000 pixels and can display file information and histograms. Movie playback is also available onscreen. The R2's movie mode can record 15 or 30 frames per second at 320 x 240 or 160 x 120-pixel resolution. While the resolutions aren't incredible, the camera does record audio simultaneously and has a digital zoom that works in movie mode.
The Ricoh Caplio R2 has six basic scene modes: Portrait, Landscape, Sports, Text, Night Scene, and High-Sensitivity. The first five are self-explanatory; the last mode is for shooting indoors or where there is low lighting. To aid in such situations, there is a wide ISO range from 64-800. The R2 has a standard shutter speed range that shoots as fast as 1/2000th of a second, but takes about a second in between each shot. The included rechargeable battery can take about 500 shots before needing a recharge, however, two standard AA batteries will provide the user with enough power to take about 200 shots. There is no word yet on pricing for the Ricoh R2.