*May 22, 2006 – *In a recent slew of product announcements, Ricoh announced the Caplio R40 today. The compact digital camera has 6 megapixels but features a 5.7x optical zoom lens. The camera is only 1.02 inches thick and will compete with the likes of the 5x enabled Kodak EasyShare V570. The R40 should also appeal to the fashionable crowd by offering two different body colors – champagne and black.
The Ricoh Caplio R40's 5.7x lens measures up to an equivalent 28-160 mm; it extends from the camera body. The R40 is considered a step down from the Ricoh Caplio R4, which was announced on March 17 and came with a longer 7.1x optical zoom lens. Today's press release called the R40 "a more affordable version" of the R4. The 5.7x optical zoom lens uses Ricoh's newly developed double retracting system to fit the lens in the R40's slim body.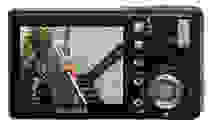 The camera's lens can focus on objects as close as 1 cm with its macro mode. The R40 also claims to be quick with an advertised shutter lag of just 0.09 seconds. The Ricoh R40 has a few interesting features such as the skew correction function. This takes images of blackboards and documents and corrects the trapezoidal shape to a rectangle when pictures aren't taken head-on.
Included in the package with the Ricoh Caplio R40 is a lithium-ion battery that lasts 350 shots before needing a recharge; the charger is included with the camera as well. The digital camera has a 2.5-inch LCD screen with 153,000 pixels and a one-touch button to brighten it.