Cameras
Ricoh Launches GX100 with Removable Viewfinder
Read about Ricoh's new GX100 digital camera that shoots RAW images. The GX100 has a shifting CCD sensor for vibration reduction and a removable viewfinder.
March 29, 2007 – Japan-based camera manufacturer Ricoh announced yesterday the launch of the Caplio GX100, a 10-megapixel camera that is capable of RAW shooting. The Ricoh GX100 has a removable, tilting viewfinder for angled shooting.
The Ricoh GX100 features a 10.01-megapixel CCD sensor that can shift for blur reduction in Vibration Correction mode. The camera is fitted with a 3x optical zoom lens with a focal length of 24-72mm wide zoom and a macro mode for photographing objects as close as 1cm.
Its most distinguishing feature is its removable electronic viewfinder for what Ricoh calls "SLR-like shooting," according to the company website. Users can attach the viewfinder to the hot shoe mount and tilt it for low-angle photos. For users who prefer to save battery power, this removable viewfinder is included in an optional GX100 VF Kit.  For users who prefer to frame their photos through the display, the camera also has a 2.5-inch, 230,000 pixel resolution LCD monitor. The camera is equipped for RAW and JPEG stills and Motion JPEG video and comes with a built-in pop-up flash.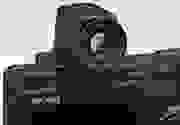 The GX100 has a sensitivity range up to 1600 ISO and accepts AAA batteries.
Key Features:
10 megapixel
Removable viewfinder
RAW capabilities
3x optical zoom
Removable LCD viewfinder
Vibration Correction Function