Cameras
Ricoh Launches Sturdy G600
April 22, 2008 – Ricoh today announced the G600, a 10-megapixel water- and dust-resistant point-and-shoot. With a tough, shock resistant exterior, the G600 isn't at all dainty. It features a wide-angle 28mm lens with 5x optical zoom and a 2.7-inch, 23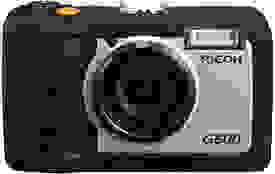 April 22, 2008 – Ricoh today announced the G600, a 10-megapixel water- and dust-resistant point-and-shoot. With a tough, shock-resistant exterior, the G600 isn't at all dainty. It features a wide-angle 28mm lens with 5x optical zoom and a 2.7-inch, 230,000-pixel LCD. Price and release date for the G600 in the US has not yet been announced, but it is priced at £350 (about $700) in the UK, and will be available in May.
The G600 follows the Caplio 500G Wide, released in May 2006. The G600 is smaller and lighter than its predecessor, but has the same tough specs: it can withstand a 1.5 meter (5 foot) fall, shoot underwater in shallow water of up to 1 meter (3.2 feet), and withstand temperatures as low as -10 degrees Celsius (14 degrees Fahrenheit).
The G600's flash has an effective range of up to 10 meters (32.8 feet), and can reach sensitivities of up to ISO 3200 for shooting in low-light situations. An accessory shoe allows for the attachment of external flashes for more flash flexibility.
The camera's Macro mode can focus on subjects as close as 1 centimeter (0.4 inches).
The wide-angle lens has a 35mm equivalent of 28 to 140mm, and a 22mm conversion lens can be attached for even wider shots. It features electronic blur correction to minimize blur in photos, although this isn't as effective as other forms of image stabilization, like optical image stabilization.
The G600 runs on a rechargeable lithium-ion battery that can get a reported 360 shots per charge, but also accepts AAA batteries if there's nowhere to charge the battery. It's PictBridge compatible for printing without directly from camera to printer.