Cameras
Ricoh Updates GX100 v1.14
Find a link to the camera firmware update to the Ricoh Caplio GX100. The update promises better auto focus.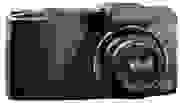 May 30, 2007 – Ricoh yesterday released a firmware update to the Caplio GX100 camera. Firmware version 1.14 corrects a number of bugs and promises better auto focus.
The 10-megapixel Ricoh GX100 was launched in March with RAW shooting and a removable viewfinder. Among the improvements with firmware 1.14 is an improved AF algorithm for better accuracy. The updated software also fixes focus corruption including switching from auto to manual focus or with multi-auto focus use with AAA batteries. The update also corrects an irregularity with exposure compensation when shooting DNG files or long exposures, according to the Ricoh website.
The Ricoh GX100 1.14 firmware is compatible with Windows 98 and higher and Mac OS 9.0 and higher and is currently available for download at www.ricoh.com/r_dc/download/firmware/gx100/.