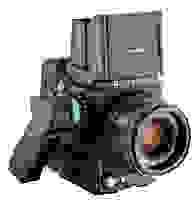 February 17, 2005 — Rollei announced it will rebuild its U.S. subsidiary to increase its presence in the U.S. digital camera market. The company is unveiling five digital cameras at the Photo Marketing Association Trade Show for sale in the United States. Rollei announced the new Rolleiflex 6008 AF medium format SLR with digital back yesterday. The other four consumer digital cameras have been released in Europe, but are making their U.S. debut in 2005.
The Rolleiflex 6008 AF is a medium format SLR camera with a 16-megapixel db20p PhaseOne digital back. The high resolution full frame CCD can shoot images at 4080 x 4080 pixels. The Rollei is compatible with the more than 20 Rollei-6000 lenses. At a weight of 3.5 pounds for the camera and an additional pound for the digital back, the Rolleiflex 6008 AF is targeted for on-location and studio photographers. And with a price of $16,000, it is geared toward the professional sector of the digital camera market.
Rollei's other digital cameras are more mainstream with more reasonable prices. The dr5 is the newest release, announced in late January. The 5-megapixel camera was originally announced for release in Europe, but will now be extended to the United States. Pricing for the Rollei dr5 has not been released yet. Rollei will also release another 5-megapixel camera, the dr5100, although it is not as slim as the dr5. The dr5100 has a 3x optical zoom and a sturdy aluminum body that is still compact. The Rollei dr5200 has 5.2 megapixels and similar features to the 5100, except it comes in a more stylish and flat camera body. Both the dr5100 and dr5200 will retail for $400. Rollei will also release the dk4010, which has 4 megapixels and an impressive 10x optical zoom lens. That model will retail for $500.