January 27, 2005— Released today, the 5-megapixel Rollei dr5 aims to exceed current compact point-and-shoot standards, packing more power than most on the market. To this end, it features a 4.8x optical zoom lens and minimal shutter lag. The dr5 will be available in Europe in March for a retail price of €299, or about $390 USD. This price may seem a bit steep for a compact camera, but there are some great features on this attractive model.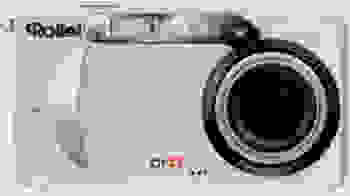 The camera body is completely flat when turned off, making it easy to slide the 0.98-inch thick Rollei dr5 into a pocket or purse. The entire surface of the 3.9 x 2.2 x 0.98-inch camera is constructed from metal, making it more durable. The dr5 weighs 5.3 ounces without the SD/ MMC memory card or the two AA batteries that power it.
The Rollei dr5 has a D-VarioApogon 4.8x optical zoom lens that measures from 4.6-22.2mm. In 35mm photography, this is equivalent to a 28-135mm lens. There is an additional 3.6x digital zoom, but perhaps the greatest feature of this lens is its ability to be manually focused. A macro focus mode lets users focus as close as 1cm. The dr5 also has an optical viewfinder and a 1.8-inch LCD screen with 110,000 pixels.
Recording in JPEG or TIFF file formats to its 5-megapixel 1/2.5-inch CCD, the dr5 offers four still image sizes. This model can start up and take its first shot in less than a second, and once it's powered up, it has about a 1/10th of a second of shutter lag. The camera's movie mode is fairly standard: it records 30 frames per second in either 640 x 480 or 320 x 240 resolution. Perhaps a distinguishing factor for the movie mode is that it can record with audio, which many compact digital cameras leave out in the interest of minimizing costs.
The Rollei dr5 also distinguishes itself with 12 MB of internal memory, a manual white balance setting, and manual adjustable ISO settings. The ISO range extends beyond that of the average point-and-shoot, offering choices between 64 and 800. The dr5 does have many impressive features, but it seems to be missing manual shutter speed and aperture settings, which is disappointing in a camera that costs €299.