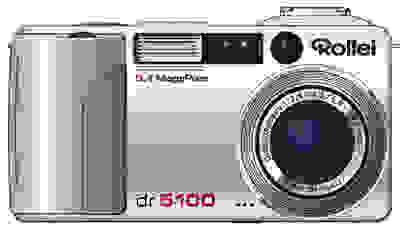 Rollei recently announced two new digital cameras: the Rollei dr5100 and the Rollei dk4010. The dr5100 is a 7.2-ounce compact camera aimed at photographers who seek convenience and portability. The dk4010 is designed for high-end consumers who gravitate towards the expansive 10x D-VarioApogon optical zoom lens and abundant manual controls. Both digital cameras will be released in October 2004.
With 5.1 megapixels, the Rollei dr5100 applies a slew of manual features to the compact digital model. A 1/1.8-inch CCD records images at four resolution levels (2592 x 1944, 2048 x 1536, 1280 x 960, 640 x 480) and movies at two levels (320 x 240, 160 x 120). Portrait, Sports, Landscape, Night, Text and High Sensitivity modes are available in addition to the Movie and Manual modes. Shutter speeds range from 30 seconds to 1/2000th of a second. The ISO range emphasizes flexibility and control, providing speeds from ISO64 to 1600 along with Sun, Cloudy, Tungsten, Fluorescent, Automatic and Manual white balance settings
Perhaps the strongest feature on the Rollei dr5100 is the 3x optical and 4x digital D-VarioApogon zoom lens. The lens has minimum apertures of f/2.5-4.3 and has an optical zoom range from 28-85mm (equivalency in 35mm format). The dr5100 also has a 1.8-inch color LCD monitor with 130,000 pixels in addition to an optical viewfinder.
The Rollei dr5100 has 16 MB of internal storage to go along with SD and MM card slots. Like many digital cameras on the market right now, the Rollei dr5100 is PictBridge compatible. It will sell for 349 Euros or about $430US. This camera will find lots of competition within the price bracket and looks to distinguish itself though style, strong lens elements and advanced manual control.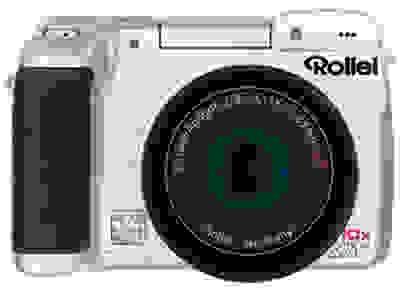 The 4-megapixel Rollei dk4010 has a 10x optical and 6x digital zoom lens that attempts to vault this digital camera into a league beyond the current trendy compact conglomeration. The 10.9 ounce dk4010 sports a 1.5-inch DayFine color LCD monitor, complete with 110,000 pixels. Plus, this Rollei model stocks a host of options.
It has a movie mode, a shutter-priority setting, an aperture-priority setting, a fully automatic setting and a fully manual setting. The Rollei dk4010 also has programmed settings for Portrait, Sports, Night and Night Portrait. Within the user's control is a 100 to 800 ISO range, along with seven white balance settings. Shutter speeds can be adjusted anywhere from 1 second to 1/2000th of a second to control exposure. This digital camera can even use its flash settings to change red eyes back to their natural color. Sound wild? Not really. Lots of cameras can do this. But the Rollei dk4010 does it at 3.3 frames per second.
Rollei looks to impact the digital camera market with these two additions later this month.