Cameras
Rytterfalk Fotografi Reviews Sigma AML-1
Carl Rytterfalk Fotografi reviewed the Sigma AML-1 close up lens and even posted a video review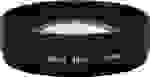 Carl Rytterfalk Fotografi reviewed the Sigma AML-1 close up lens and even posted a video review, which we recommend watching. The close up lens works great with the DP1 and the lens was found to be bright too. While the lens does suffer from slight negative distortion in corners, overall it manages to impress.
Excerpt from conclusion:

"For movies and portraits such as the ones above it's a wonderful solution and gives you new views - plus that the extreme OOF is perfect for videos."