January 14, 2005 – If your child has a fascination with your expensive digital camera, you may want to consider a product Sakar International Inc. announced last week at the Consumer Electronics Show in Las Vegas. The KidzCam Digital Camera Kit comes with a digital camera, USB cable, a user manual, and CD-ROM software that is built for children. The kit is available immediately and retails for $29.99, although it can be found online for around $20.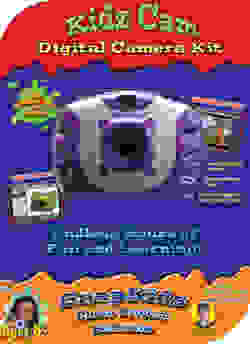 Children can take up to 152 pictures on the KidzCam and can even use the device as a webcam. The photos can then be downloaded to a computer and edited or created into games. The editing options are not as elaborate as Photoshop; there are 18 tools for children to twist, turn, and tweak their pictures. There are five games available on the software: Photo Jigsaw, Pixel Paddle, Shutterbug, Photo Tiles, and Click Flip.
The camera is meant to foster creativity and promote a love for photography while also developing educational skills such as creative writing, reading comprehension and vocabulary. It does this with its Story Maker section of the software. The Story Maker allows children to write and illustrate stories with their pictures, using 12 templates. The books can then be e-mailed or printed.
The idea of a sturdy children's camera with user-friendly software is nothing innovative – and something Sakar could do better at. Several consumer web sites that sell the product also post reviews from people who have already purchased the KidzCam. So far, none of the reviews have been raving. Some of the complaints include a lack of durability, poor resolution, and poor field of view coverage in the viewfinder.