Cameras
Samsung Announces Dual-Screen TL220 and TL225, Wireless CL65 with GPS
Samsung changed the arms-length digital self-portrait procedure in a radical way today, introducing DualView cameras with two LCD displays, one on the back and one on the front, aimed at the subject. Also announced was the wireless CL65 (shown) incorporat
August 13, 2009 - Samsung changed the arms-length digital self-portrait procedure in a radical way today, introducing DualView cameras with two LCD displays, one on the back and one on the front, aimed at the subject. Also announced was the wireless CL65, incorporating GPS geotagging plus Wi-Fi and Bluetooth communication capabilities.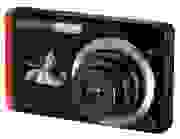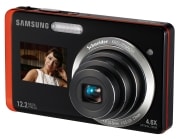 The TL225 and TL220 each boasts two LCDs, including a 1.5-inch screen on the front of the camera. This can be used for self-portraits, either handheld or on a tripod, eliminating picture framing guesswork. The shutter can be triggered using smile detection or via the self-timer. The extra screen has additional uses as well. When taking photos of a child, it can play an animation to capture the subject's attention and hopefully raise a smile. It can also display a look-your-best indicator to the subject that the photographer's finger is halfway pressed on the shutter button, or the countdown status of the self-timer.
Both the TL225 and TL220 are 12.2-megapixel cameras with 4.6x zoom lenses with a 27mm equivalent wide angle setting. The primary difference between the two lies in the rear display. The TL225, which will sell for $350, offers a 3.5-inch touch-screen display with a very high 1,1152K dot resolution and haptic feedback when touched. The TL220, priced at $299.99, also offers a touch-screen with haptic feedback, but at a smaller 3-inch size and more standard 230,000 dot resolution.
Both DualView cameras offer 720p video recording in H.264 format, along with a facial recognition system that remembers and prioritizes up to 20 individuals and a user interface that provides controls based on tilting the camera or drawing patterns on the screen with your finger.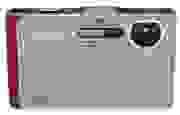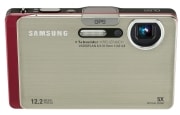 The other camera announced today is the CL65, incorporating a GPS unit for in-camera geotagging, Wi-Fi and Bluetooth for wirelessly transmitting photos to compatible devices plus DLNA compatibility for viewing photos from your camera over a network.
The built-in geo-tagging function will display the current city while shooting and store that information with the image, in a form that's compatible with popular photo sharing sites. The Bluetooth capability allows photo sharing from the camera to a mobile phone, with automatic image resizing over a Bluetooth 2.0 connection. Wi-Fi, of course, has been included in cameras before, but including DLNA compatibility should allow photo viewing on DLNA-compatible networked devices, such as the Playstation 3 game console.
The CL65 is another touch-screen model, using the same high-resolution 3.5-inch display as the TL225. It also shares the same resolution, at 12.2 megapixels, 720p video recording and gesture-based user interface system.  The lens is a 5x internal zoom.
The CL65 will sell for $399.99. All three cameras announced today are scheduled for shipment in September.