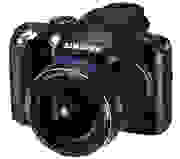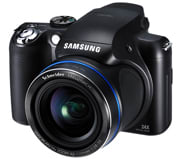 September 1, 2009 – Samsung today announced the HZ25W, a 24x ultrazoom (equivalent to a 26-624mm zoom in 35mm photography), with a maximum aperture range of f/2.8-5.0.
The HZ25W provides full manual control, shutter-priority and aperture-priority modes in addition to a scene-recognition-based Smart Auto mode. RAW and RAW+JPEG shooting are available. The full-resolution ISO range tops out at 1600, with ISO 3200 available at a reduced 5-megapixel resolution, and ISO 6400 at 3 megapixels.
There's a 3-inch LCD with 230,000-dot resolution along with a 0.24-inch electronic viewfinder. The HZ25W measures 4.57 x 3.58 x 3.27 inches (116mm x 83mm x 91mm).
High-def movie recording at up to 1280 x 720 (720p) is supported, with video stored in H.264 format. Optical zoom is available while shooting video.
The HZ25W is scheduled to arrive in October, selling for $399.95.