Samsung has announced two new cameras: the $649.99 NX11 mirrorless interchangeable lens camera and the $299.99 WB700 compact point & shoot.
The NX11 is an update to the NX10 (which we reviewed here), which was the first camera to use the new NX lens mount. The new camera offers support for the new iFn button on NX mount lenses and a new lens priority mode, which allows the user to control the camera using the iFn button and the focus ring. The NX11 also offers a redesigned grip that the company claims is more comfortable for shooting, and a new panorama mode that can take panoramic images with a single "press-and-sweep" motion. The NX11 does not increase the resolution of images or contain any updated image processing features: it uses the same CMOS sensor as the NX10, which the company claims captures images with less noise than micro four thirds cameras because the sensor is larger. The NX11 will be sold as a kit with an 18-55mm zoom lens that includes the new iFn button, but which does not offer image stabilization. It will be priced at $649.99 and will be available in February.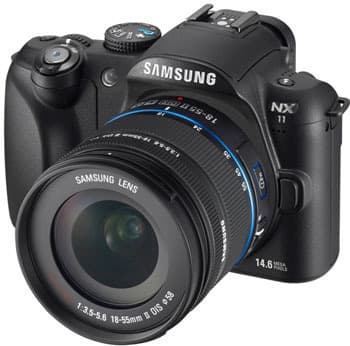 Samsung has also announced two new NX lenses: a 20mm f/2.8 fixed length, pancake style lens which is just 24.5mm thick and a 20-50mm f/3.5-5.6 zoom that is just 40mm thick. No pricing or availability was announced for these lenses.
Samsung also announced the WB700, a new ultraslim point and shoot that offers a 18x zoom lens. With the addition of a 1.3x Smart Zoom feature, they claim the camera can manage a 24x zoom. It captures 14 megapixel images and 780p video (in H.264 format, but Samsung did not specify the frame rate) from a CCD image sensor. The body is just 0.85 inches thick, 3.9 inches (99.5mm) wide and . It will be priced at $299.99, and will be available in April.