*February 23, 2009 - *Today Samsung introduced two cameras, both offering  24mm wide-angle shooting. Beyond that, the TL320 and HZ515W stress very different capabilities.
The TL320, with 12.2-megapixel resolution and a 5x zoom lens, is noteworthy for its 3-inch, 460,000-dot AMOLED display. AMOLED, or active-matrix organic  light emitting displays, grabbed public attention in wafer-thin, very expensive televisions from Sony and Samsung, combining a svelte physique with brilliant color, featuring  extremely high contrast ratios. According to Samsung, the 3-inch OLED on the TL320 is the largest camera screen yet using this technology.
Looking beyond the screen, the TL320 provides dual-image stabilization, full manual exposure control and extensive white balance controls. The camera shoots video at 720p and can output it to a high-definition TV via an HDMI port in the included cradle. Reprising a feature that grabbed a lot of attention on the  TL9 introduced last summer, the TL320 sports two analog gauges on top of its brushed stainless steel body, for a distinctively retro look.  The slim TL320 (3.8 x 2.4 x 0.85 inches; 97mm x 60mm x 21.8mm) goes on sale in May for $379.99.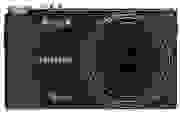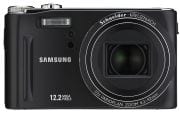 Following up on the 10x, 24-240mm HZ10W ultra-zoom introduced in January, the HZ15W delivers the same lens specs but ups the resolution from 10.2 megapixels to 12 megapixels. Like the TL320, this camera also shoots 720p video, but has a built-in HDMI port, so no external cradle is required. The LCD screen is a straightforward 3-inch, 230,000-dot LCD, the size 4.1 x 2.4 x 1.5 inches (105mm x 61.4mm x 37.2mm), the price $329.99 with a March ship date.