Cameras
Samsung Imaging Focuses on Mobile at CES 2013 Press Conference
Samsung gave a short spotlight to the new NX300 and 3D lens, but skipped its new fixed-lens camera and camcorder lineup.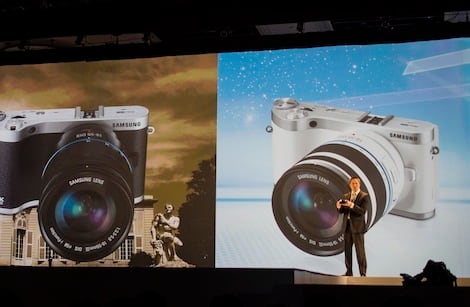 Samsung's press conference at CES 2013 was TV-centric, with some incredible new big-screen designs. Imaging products played a very minor role in the presentation. The new NX300 got a few minutes of attention. It's an update to last year's NX210, with a cooler retro design, updated AF and smart features, and tilt screen. The 3D lens earned a short spotlight too, though Panasonic did something similar a few years ago.
And otherwise, no mentions of any other new cameras. They did announce a large handful of new fixed-lens cameras and camcorders for the show, which we covered based on press releases, but they didn't merit call-out at the massive press conference. We'll scope them out some more when the show floor opens tomorrow.
If there's one theme that Samsung harped on that might be of note to photographers, it's that everyone uses more than one screen to create and consume, and it's a hassle to keep all of our content in one place. Samsung wants to make it easy with their smart features, but they have a ways to go before it all runs smoothly.
Press Day Recap Video