*February 17, 2009 - *Today Samsung introduced four new cameras, the SL820 with 720p recording) and the SL620, both with 3-inch LCDs, 12-megapixel resolution and dual image stabilization, and two 10-megapixel models, the SL202 and SL30.
The SL820, priced at $279.99, offers a 5x lens starting at 28mm (equivalent). It records 720p video in H.264 format and outputs it via HDMI through a cradle connection. It is scheduled to ship in May.
The SL620, due in March, also provides a 5x zoom, though the range starts at 35mm (equivalent), and video resolution is limited to 640 x 480. It will sell for $199.99.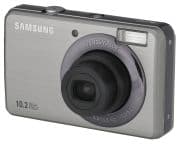 Moving into 10-megapixel territory, the SL202 (shown) and SL30 both come with 3x zoom lenses and digital (rather than mechanical) image stabilization. The SL202 includes a 2.7-inch LCD and is powered by a rechargeable battery, while the SL30 has a 2.5-inch screen and runs on AAs. The two will sell for $149.99 and $99.99 respectively. Both cameras will ship in March.