January 18, 2010 – Samsung announced five new compact cameras tonight, including two ultra-slim models (TL110 and TL105), two 15x zoom cameras that start at a wide 24mm (HZ35W and HZ10W) and the 12.2-megapixel 5x zoom SL630.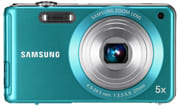 The 14.2-megapixel TL110 and 12.2-megapixel TL105 both feature 2.7-inch LCD displays. The TL110 has a 5x zoom and dual image stabilization, the TL105 a 4x lens and digital-only stabilization. Both cameras include 720p video capability a 30fps, using H.264 compression. Both are quite slim, with 0.65-inch depth. These cameras will ship in February; pricing was not announced.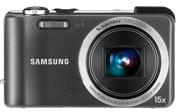 The 12-megapixel HZ35W and HZ30W deliver 15x zoom lenses starting at an impressive 24mm wide angle. The HZ35W includes a 3-inch OLED screen along with built-in GPS for geotagging photos; the HZ30W is also a 3-inch screen, but an LCD display. With 720p video and HDMI out, these two models are slated for March delivery, with pricing to be announced.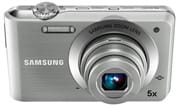 Rounding out the introductions is the SL630, a 12.2-megapixel point and shoot with a 5x zoom starting at 28mm. The SL630 features a 2.7-inch 230,000-dot LCD, standard-def video reording, a March ship date and a price to be determined.