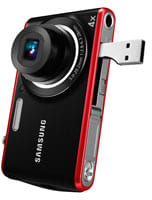 4th August 2010 - The Samsung PL90 has an interesting trick up its sleeve: a built-in USB connector that can be used to transfer images and charge the camera.
The PL90 is a 12.2-megapixel point and shoot that also inlcudes a 4x zoom lens. The built-in USB connector flips out from the bottom of the camera body and offers a USB 2.0 connection that is compatiable with Windows and MacOS. The camera also charges the internal battery of the camera from this connection, so no seperate power charger is needed as long as the USB port used provides enough power. Some USB ports on computers are unpowered, and these could only be used to transfer photos.
The PL90 also offers a couple of new shooting modes: a new Smart Auto (Still & Movie) mode that chooses the appropriate scene mode when the shutter is pressed and the new Perfect Portrait System, which uses face tracking for better portraits. This mode also includes a new self portrait mode that tracks the face as it enters the frame and alerts you when it is about to take the photo. Standard definition (640 by 480 pixel) movies can aslo be captured.
The camera body is small, measuring 0.7 by 2.2 by 3.9 inches. On the back of the camera body is a 2.7-inch LCD screne with a 230k pixel resolution. It will be released in September and priced at $149.99.