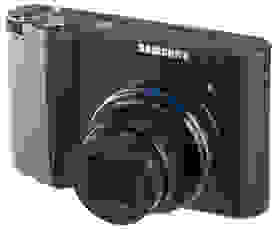 January 30, 2007- Samsung announced today the fourth camera in their NV product line, the NV11. The 10-megapixel camera comes with a higher 5x optical zoom lens, slightly larger LCD monitor, an expanded ISO sensitivity range, and facial recognition. It will be available for the suggested retail price of $399.99 when it debuts in North America in the spring.
As an update to the NV10 that was launched in July at the same introductory price, the NV11 shares similar features to the previous model. Like the other NV models, the NV11 has a black stainless steel body and blue ring around the lens barrel, this is part of Samsung's branding strategy with the launch of the NV series.
The Samsung NV11 holds the same 10-megapixel count as its predecessor. The NV11, however, improves upon the NV10's 3x optical zoom with a 5x Schneider optical zoom lens. The new camera also has a slightly larger 2.7-inch LCD screen with the signature control buttons lining the display. The NV11 totes a higher sensitivity at 1600 ISO, up from 1000 ISO.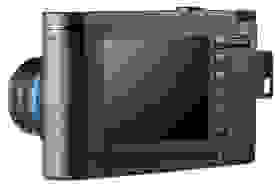 The NV11 also adds facial recognition for auto focus and auto exposure for portraits, like their S1050 and S850 which were announced at CES. The NV11 features Smart Touch user interface, currently available on the NV10 and NV7, and anti-shake image stabilization. The Samsung NV11 has a MPEG-4 movie mode at 640 x 480 at 30fps.
Key Features:
10 megapixel sensor

2.7-inch LCD with Smart Touch user interface

5x Schneider optical zoom lens

max 1600 ISO