January 17, 2006 – Samsung officially released its first DSLR product today, the long-awaited Samsung GX-1S. In October 2005, Samsung teamed up with Pentax and announced that the two manufacturers would collaborate to develop DSLRs. The resultant Samsung GX-1S looks very familiar with the same body and specifications as the Pentax *istDS2. The newly announced 6.3 megapixel GX-1S will be available in February.
The Samsung GX-1S has a Pentax lens mount that accepts all Pentax DSLR lenses, as well as Schneider glass, including the Schneider-Kreuznach D-Xenon 18-55 mm, f/3.5-f/5.6 lens that comes with the camera. With the introduction of this DSLR, Samsung can now claim to have digital cameras for point-and-shooters with its A-series, intermediate users with its V-series, hobbyists with its Pro815, and serious photographers with this new release. The Samsung Pro815 is the manufacturer's most advanced camera besides the new GX-1S. The Pro815 was announced in June 2005 and has 8 megapixels, a huge 3.5-inch LCD monitor, and an attached 15x optical zoom lens.
Samsung's GX-1S has 6 effective megapixels on its 23.5 x 15.7mm CCD. The DSLR has a wide variety of modes including manual, shutter and aperture priority, programmed auto and six scene modes. Besides the scene mode offerings, the GX-1S has a few other touches more reminiscent of compact models. It has a digital filter mode that has black and white, sepia, soft and slim effects. Still, most of its features are more typical of the DSLR market it enters. It can shoot in RAW or JPEG and has a 2.8 fps burst mode. Its ISO options range from 200-3200. Shutter speeds range from 30 seconds to 1/4000th of a second and a bulb option is available.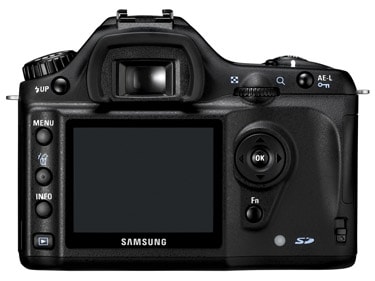 The body is an exact copy of the Pentax **istDS2 down to the last button. It has the same grip, 1.1-pound heft (without the batteries and lens), and 2.5-inch LCD screen with 210,000 pixels. The DSLRs share the same specifications as well: 11-point AF systems, 16-segment metering, shutter speeds, etc. Both cameras have a built-in pop-up flash and can operate via an optional remote control. The **istDS2, which was announced last August, and the Samsung GX-1S both use four AA batteries for power and SD cards for memory storage.