August 10, 2006 – *Samsung Electronics Co., Ltd. announced today the company has created the "world's first LCD screen of 3 inch VGA quality for digital still cameras," according to today's press *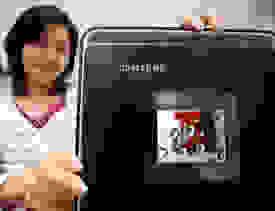 release.
**"Our new LCD panel will make viewing of digital pictures distinctly more impressive on camera screens, personal multi-media players and other products requiring high-image resolution and low-power consumption," said Samsung Executive VP Yun Jin-hyuk in the release.
Comprising of 640 x 480 pixels, the Samsung 3-inch LCD operates on a 30Hz drive, an interface similar to those used for TV monitors. Using a "dot-inversion scheme," the 307,200 pixel screen requires less power than other high pixel LCDs, according to the release.
Samsung will exhibit the VGA quality LCD at Korea's IMID conference in late August.