*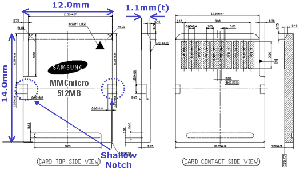 March 24, 2005 *– Samsung announced today that they are manufacturing the world's smallest camera phone memory cards. Mass production has begun on the new MMCmicro, which Samsung is working on standardizing with the Multimedia Card Association. The thumbnail-sized card is built mainly for camera phones and other multimedia devices, not for digital cameras.
The MMCmicro can read 10 MB per second and write 7 MB per second. At 12 x 14 x 1.1mm, the memory card is one-third the size of the Reduced Size MMCs. The energy-efficient cards will be available in 32 MB, 64 MB, 128 MB, and 256 MB versions immediately. A 512 MB card will be released within the next three months and a 2 GB card will be released early next year, a Samsung press release stated.
The card is meant to complement some of Samsung's newer camera phones, which now feature five and seven megapixels. With a 256 MB MMCmicro, users can capture about 120 five-megapixel pictures or 100 minutes of QVGA-quality video.