Cameras
Samsung Unveils Compact NX200 and Frame-Flipping MV800
Samsung have announced three new cameras for the company's 2011 lineup, including an update to their compact interchangeable lens NX100. Find out more about the 20.3-megapixel NX200 and the other announcements inside.
Samsung announced today the addition of three new cameras to their 2011 lineup: the 20.3-megapixel, interchangeable lens NX200, the LCD-flipping MV800 and compact 18x zoom WB750.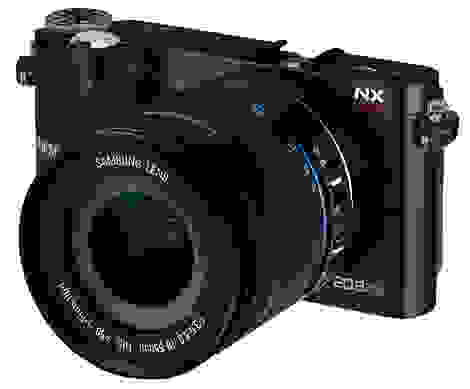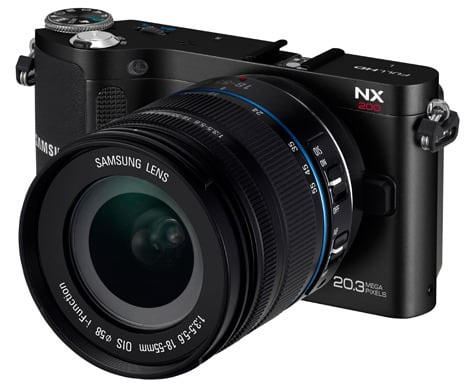 The Samsung NX200 follows on the heels of the NX100, announced just last year, and improves on its predecessor in a number of ways. The NX200 will sport a 20.3-megapixel APS-C image sensor, 1080/30p H.264 HD video capture, feature 7fps still shooting, an ISO range of 100-12800, and also retain the 3-inch AMOLED screen of the original. That represents a pretty significant upgrade on paper over the NX100, with its 14-megapixel image sensor and underwhelming 720/30p HD video.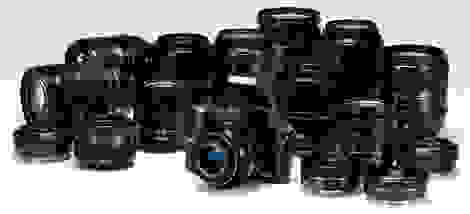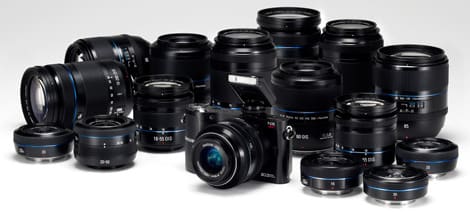 The NX200 will be fully compatible with Samsung's i-function lenses, allowing users to make adjustments to shooting settings on the fly using on-lens controls. The i-function lenses will allow users to switch between controlling a wide variety of shooting parameters, from aperture to shutter speed to intelligent zoom, all without taking their eyes off the shot. With the new lenses announced this year, the Samsung NX system is looking more and more competetive with Sony's NEX and Olympus and Panasonic's Micro Four Thirds lens library.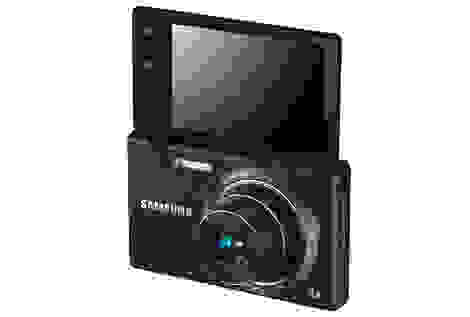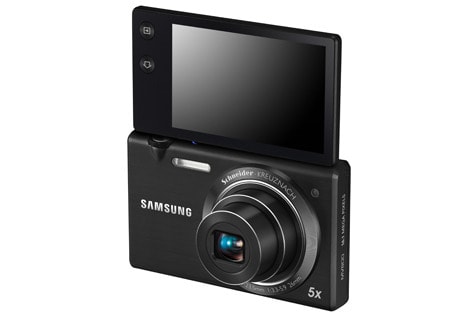 In addition to the NX200, Samsung is also announcing two fixed-lens models today. The first of these, dubbed the MV800, stands out for its 3.0-inch touchscreen LCD, which flips out and up a full 180-degrees. This allows framing from behind, above, or even directly in front of the camera; a new technique for Samsung's "DualView" product line.
The MV800 will be a 16.1 megapixel model, with a 5x optical zoom and 26mm wide-angle lens. To our delight, this camera will also come with the latest version of Samsung's in-camera editing suite, including "Magic Frame." So expect an influx of silly editorial staff pictures.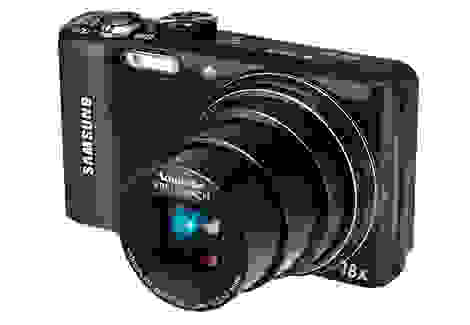 Finally, Samsung is also announcing the WB750, a compact camera with an extra long 18x optical zoom lens manufactured by Schneider Optics. The WB750 will feature a redesigned CMOS sensor and image processor, with an effective resolution of 12.5 megapixels. Samsung claims the camera is capable of 10 frames per second continuous shooting.
This model will be capable of full-HD 1080p video, with 10 megapixel image capture available during shooting. Shutter priority, aperture priority, and full manual exposure modes will all be supported.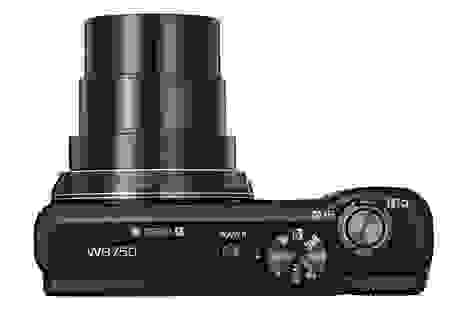 No word yet on pricing or availability for the models announced today, but you can visit Samsung.com for more information on the NX200 and others.
{:{PhotoGallery article.attachments}:}