Cameras
Samsung Updates GX-10 Firmware 1.11
Find a download link for the Samsung GX-10 firmware update 1.11.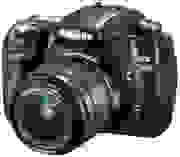 April 2, 2007 – Samsung recently released an update for their GX-10 DSLR model. Firmware 1.11 gives users more options for switching between time and aperture functions and is currently available online for download.
The Samsung GX-10 is a 10-megapixel DSLR that was introduced in September 2006. The camera sports weather-proof seals, a dust removal system, and a shifting CCD sensor for optical picture stabilization.
The firmware update includes a wireless built-in flash function. Firmware 1.11 also has new ISO sensitivity settings shown on the LCD display and between Shutter and Aperture Priority modes. Users can also switch between Shutter and Aperture modes though the front and rear camera dials.
Samsung GX-10 users can download firmware 1.11 at http://www.samsungcamera.com/customer/download/fw/gx_10/fw_step1.asp.