Cameras
SanDisk and Sony Develop New 32 GB Memory Stick PRO-HG
SanDisk and Sony Develop New 32 GB Memory Stick PRO-HG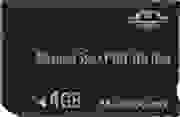 *December 11, 2006* – SanDisk Corp. and Sony Corp. are jointly developing a new flash memory format, the Memory Stick PRO-HG, according to a SanDisk press release today. The new media card will offer capacities up to 32GB and is expected to be introduced in 2007.
The new Memory Stick PRO-HG media 'allows the speedy sharing of high definition video and digital still camera data between products," said Sony Corp. president Akira Kubota of the Core Component Business Unit.
Based on the Memory Stick PRO format, the new Memory Stick PRO-HG expands on speed and storage capacity.  At a full 32GB, the new card will transfer data at 60 MB per second, three times faster than its predecessor, according to the release. The Memory Stick PRO-HG combines a new 8-bit parallel interface with a 4-bit parallel interface and has a clock frequency of 60 MHz. 
Users who are worried about backward compliance with the new format can rest assured,"the Memory Stick PRO-HG media can be used [sic] conventional Memory Stick PRO compliant host devices as well as Memory Stick PRO-HG compliant devices," stated the release.