October 28, 2004 — Sandisk Corporation is doubling the ammo in its memory cards. On Tuesday, Sandisk announced that its Memory Stick PRO, Memory Stick PRO Duo and SD cards are now available in 4GB, 1GB and 2GB chips, respectively. Also, Sandisk's mini-SD and RS-MMC cards are increasing power to 512MB. The host of memory cards will be available next month.
Using 90-nanometer 4-gigabit NAND/MLC flash memory, a 32-bit controller design and its chip stacking technology, Sandisk created these cards to fit into digital cameras, camcorders, music players, cell phones and games. The new 4MB Memory Stick PRO will sell for $799.99, while the 1GB Memory Stick PRO duo goes for $204.99 and the 2GB SD card hits the shelves at $199.99.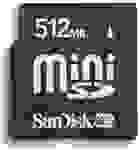 The Sandisk mini-SD and RS-MMC cards were designed specifically for cell phones and electronic multimedia devices. To fill the need for more memory in a smaller space, Sandisk created its 512MB cards.
"We expect to continue to increase capacities for these cards as these storage-intensive mobile phone applications grow in popularity," said Nelson Chan, executive vice president and general manager of Sandisk's consumer and handset business.
The smaller cards are expected to increase in popularity because of their flexibility. The cards are designed to fit in cell phones, but include an extension so the card can be used in full-sized MMC and SD card slots. Both miniature cards will sell for $69.99 beginning in November.