*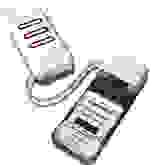 March 10, 2005 *— SanDisk today introduced the Cruzer Profile, a high security USB drive that recognizes finger prints. When a user swipes a finger across the device, an identification sensor reads the print and approves the user for access to the drive. The product is targeted to appeal to students and business professionals who transfer sensitive material from computers.
"The USB flash drive market is attracting new customers every day and many of them want a portable storage device that will add an extra layer of security to protect the data on their device if the flash drive is lost or stolen," said Mike Morganstern, USB flash drive product marketing manager at SanDisk.
The Cruzer Profile retains the fingerprint identification image and does not pass it to any computers or devices. Swiping the finger doesn't take long either, as SanDisk spent months of research and development perfecting the sensor to read finger prints from all angles. Using a "two-piece tethered design," the drive can pop out of the connected housing where the finger is swiped. The USB drive does not require any loading of applications to a computer either. To enhance the security features, the Cruzer Profile also provides a portable password manager that works on any host computer.
The Cruzer Profile measures 60 x 24 x 14mm, about the size of a pack of gum and offers 512 MB and 1 GB capacities. Both Cruzers have two LEDs: one for finger print authentication indication and one for data transfer indication. The Cruzer Profile cards will include three software programs in the packaging. SanDisk's CruzerLock 2 is a data file encryption program. CruzerSync works with Outlook data and Cruzer PocketCache backs up files with minimal memory. The 512 MB version will retail for $99.99, while the 1 GB model will sell for $199.99. Both cards will hit store shelves in mid-April.