March 22, 2007 – Sanyo this week announced the Xacti VPC-CG65 and Xacti CG6 for U.S. markets. Like the CG6 announced in September 2006 for Europe, Sanyo is now offering these 6-megapixel camera/camcorder hybrids in the States. The Xacti CG65 will be available for $399 in April, while the CG6 will retail for $299 (for Walmart retailers), according to a Sanyo representative.
Called a "versatile digital movie camera," according to Sanyo press materials, the Xacti cameras include still and video functions. Equipped with a 6-megapixel CCD sensor, the Sanyo CG65 and CG6 are fitted with a 5x optical zoom lens and 2.5-inch LCD that can rotate 290 degrees.
The two near-twin devices are identical from a still capture perspective. Still features include 9-point AF, seven scene modes, and three filter modes, including a sepia, monochrome, and cosmetic setting for built-in retouching. The Xacti cameras promise anti-blur technology and sensitivity of ISO 800 to 7200 at the high ISO setting.
For video functionality, the hybrid design includes a vertical grip and can take video and still images simultaneously at VGA-quality, 640 x 480 at 30fps in MPEG-4 format.
The Xacti CG65 will be offered in three colors: green, black, and silver, while the CG6 will come in blue.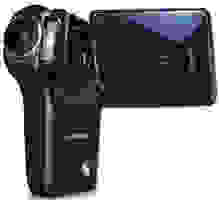 The Sanyo Xacti CG65 and CG6 are compatible with SD media and accept Li-ion batteries.

**
Key Features of Xacti CG65 and Xacti CG6:**
6 megapixel
5x optical zoom
2.5-inch LCD
MPEG-4 video (VGA-quality)